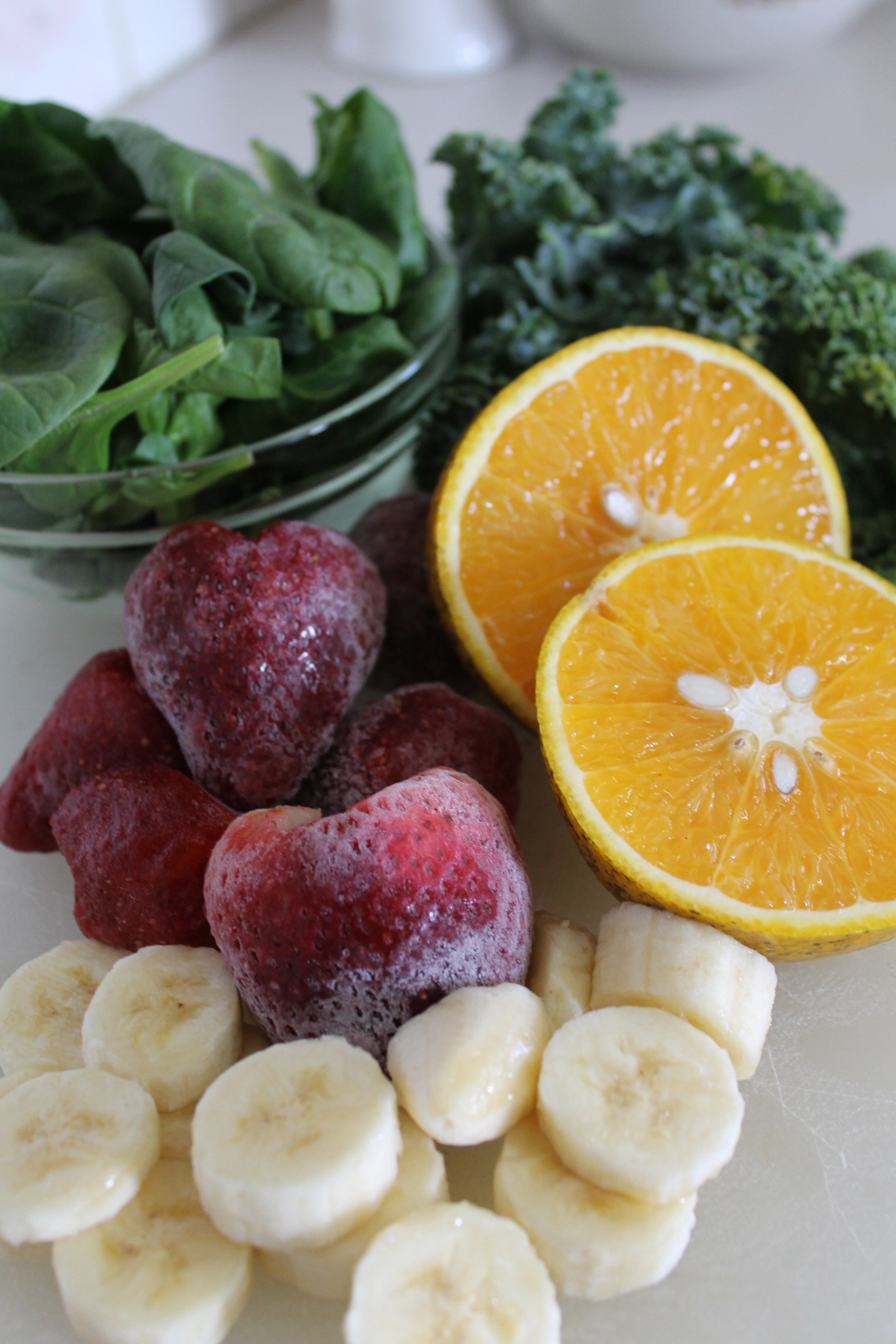 After the positive response to my Smoothie 101 video on Facebook, I wanted to share some next-level smoothie information with you guys.
Why smoothies?
1. Many plants – small package. In our effort to achieve 'wellness', we have learned that eating lots and lots of plants are good for us! Smoothies can pack several fistfuls in one glass.
2. Aid digestion. Unfortunately, increased fiber can lead to increased tummy upset. Drinking lots of water is super important, but drinking smoothies can help too. The blender is actually doing some of the digestive work for your body, decreasing discomfort. Smoothies are an excellent way for everyone from toddlers to seniors to increase their consumption of fruits and veggies.
3.  Meal Replacement. Smart nutrition add-ins take your simple smoothie to a full meal in a glass. (see below)
4. Fast Food. Smoothies take mere minutes to make and are easy to take on the go! (I have dirty smoothie cups in my car all the time.)
5. Fiber. By blending whole foods, you retain the fiber so important to our digestive process. Juicers remove most of the fiber from the fruit/veggie spiking blood sugar levels. This is bad. Smoothies are better.
Build Your Smoothie:
A solid meal full of nutrition will include good carbohydrates (like fruits & vegetables), lean protein and healthy fats. All those can be added to your smoothie!
A basic recipe is: 2-3 fistfuls of fruits/veggies + 1-2  cups liquid. Use something frozen to keep it cold (frozen fruit, ice vs. water, etc).
Fruits: Any! Some ideas are all berries, cherries, mango, whole oranges, pineapple, bananas, grapefruit, apples & pears with skin.
Veggies: Any! Dark leafy greens work well – spinach being the mildest in flavor. Make sure to blend your liquid & leafy greens first, then add everything else. This minimizes the "bits of kale in your teeth" problem. (However, kale still helps with the "dying early of heart disease" problem. So, there's that.) Also cucumber, celery, carrots, beets, sweet potato, avocado, etc.
Liquid: Any! Use plain water, coconut water, ice, green tea, milk or "milks" like almond, cashew, coconut, etc.
Smart Nutrition Add-ins
Use these to take your smoothie from a side dish to a meal! Just make sure you are not adding sugar.
Protein & healthy fats: Oatmeal (regular whole oats – just throw them in!), dark leafy greens (yup!), plain greek yogurt, nuts, nut butters, hemp hearts (you will not get high!), seeds (almonds, chia, flax), avocados, coconut oil, etc.
Extras: ginger, cinnamon, cacao, parsley, mint, cilantro, spriulina, etc.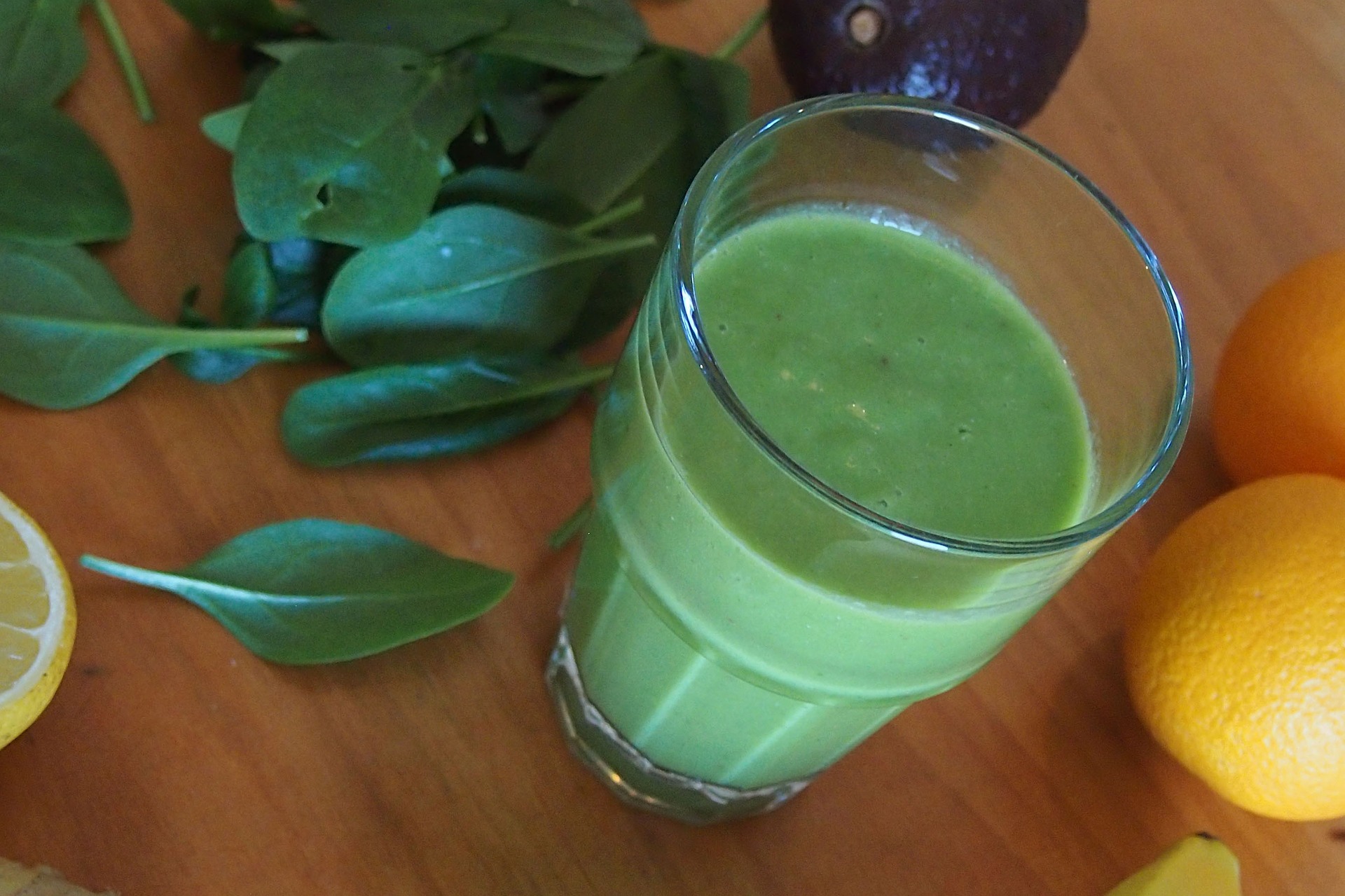 Why didn't I list protein powder? My family uses a Complete Nutrition Shake powder made by Juice Plus+. It is not too high in protein our body can not digest efficiently and contains other nutrients (sprouted grains, plant-based vitamins and minerals) our body needs. It is also one of the best we have tasted. It can be made as a shake alone, but I recommend adding it to a smoothie. You can find out more on my Juice Plus+ website.
Many of the healthy fat & protein suggestions above will provide the satisfaction you desire. Bananas, avocados, & yogurt add creaminess, seeds & nut butters thicken it up, and bananas & dates provide natural sweetness when you want it. You won't change your tastes for healthy food with glorified sugar juice!
Looking for more smoothie goodness? Try these resources for recipes:
Simple Green Smoothies – these two ladies have a website and a book
The Blender Girl by Tess Masters – I found this book at my local library and she also has a blog and a new smoothie app.
The best smoothie you can make…is the one you will drink! What is your favorite?